New Jeep Gladiator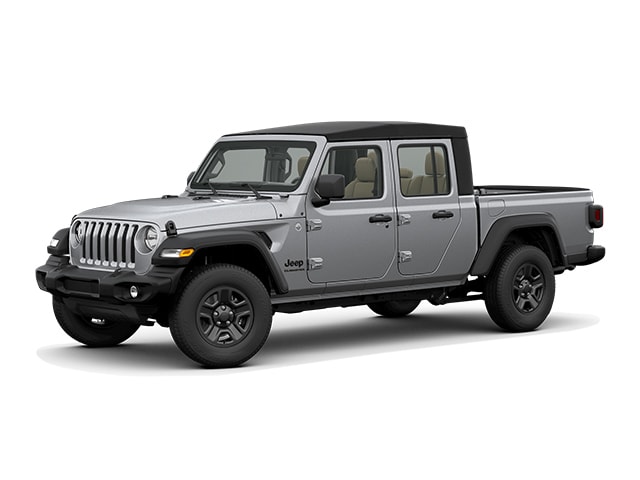 The all-new Jeep Gladiator is a workhorse that was purposefully designed to be as at home in the urban realm as it is on the off-road where it rules the landscape with rugged capability and solid performance. This is Jeep in all its glory with style, form a function rolled up into a package that demands attention wherever you take it. And with engine performance that makes the competition run for cover, the Jeep Gladiator is the perfect combination of Jeep dependability and functionality for drivers who demand more of themselves and their vehicles. The all-new Jeep Gladiator at Conklin Chrysler Dodge Jeep Ram in Wichita, Kansas - it's Jeep designed and built for the 21st century!
Conklin Cars Chrysler Dodge Jeep Ram located in Newton KS, Serving Newton Kansas, Wichita Kansas and McPherson, Kansas Areas

Jeep Gladiator EcoDiesel Offers Best-In-Class Torque
The new Jeep Gladiator offers an available 3.0L EcoDiesel V6 engine that provides an amazing 442 pound-feet of torque. That's best-in-class and allows you to take on even the toughest driving challenges with ease. And the fuel economy is excellent too at an impressive 28 highway mpg. So, the new Jeep Gladiator brings efficiency to the off-road market and gives Conklin buyers a chance to save of fuel while they enjoy everything a Jeep has to offer! Go crawling off-road or take the highway to your destination in the Jeep Gladiator and be prepared for anything in style and comfort!
The New Jeep Gladiator Packs In The Technology
Today's Jeep drivers want high performance and comfort, capability and dependability - but they also want convenience and modern technology. And the Jeep Gladiator delivers on all fronts with an available 8.4-inch touchscreen complete with the impressive Uconnect® system that includes GPS and Voice Command. That makes the new Jeep Gladiator more than just the next evolution in pickups. It's the birth of the luxury off-road vehicle that can take the breath away from those it passes on the street and those it passes off-road. It's rugged Jeep engineering paired with the best that technology has to offer and it's only available in the new Jeep Gladiator!
The Jeep Compass Is Safety & Comfort Personified
Available Blind Spot Monitoring and Adaptive Cruise Control with Full Stop Technology lead off the more than 80 standard and optional safety features available on the all-new Jeep Gladiator. Beyond what most of the competition brings to the table, and coupled with Jeep engineering, the new Gladiator is as safe as it is comfortable with an interior thoughtfully designed to offer cargo and passenger room while you adventure in the city or off-road. The Jeep Gladiator will surprise you with its innovative interior design that aims to make everyone comfortable and safe no matter where they are in the cabin!
Test Drive The New Jeep Gladiator At Conklin!
Are you looking for a vehicle that's as functional as it is stylish? Then come to Conklin Chrysler Dodge Jeep Ram in Wichita, Kansas and take a look at the all-new Jeep Gladiator. It's the next step in Jeep's evolution and will totally transform the way you think about what a pickup can do. Our experienced and knowledgeable sales staff are ready to get you behind the wheel of your own Jeep Gladiator and have an incredible inventory to choose from. So, make the drive to Wichita today and see the new Jeep Gladiator for yourself and drive away in your new truck at an incredibly low price!
Brand New Jeep Gladiator for Sale Wichita, Kansas
Conklin Chrysler Dodge Jeep Ram Newton
is located on 1500 E 3rd St,
Newton, Kansas
. From
Wichita Dwight D. Eisenhower National Airport (ICT)
get on US-400 E/US-54 E from Eisenhower Airport Pkwy, and head south on Eisenhower Airport Pkwy. Then take the Harry St/Learjet Way exit, and turn left onto Eisenhower Airport Pkwy/W Harry St. Next turn left onto the ramp to US-400/Airport/US-54/c, and merge onto Eisenhower Airport Pkwy. After that turn right onto W Kellogg Dr, and use the left lane to take the ramp onto US-400 E/US-54 E. At this point follow I-235 N and I-135 N to E 1st St in Newton, and take exit 31 from I-135 N. Afterwards, merge onto US-400 E/US-54 E, and take the exit onto I-235 N. Next keep left to stay on I-235 N, and take exit 16B on the left to merge onto I-135 N toward Salina. After that take exit 31 for 1st St toward Broadway St, and continue on E 1st St. Drive to E 3rd St. Then at the traffic circle, take the 1st exit onto E 1st St, and turn left onto N Spencer Rd. Finally, turn left onto E 3rd St, and Conklin Chrysler Dodge Jeep Ram Newton will be on the right.
We're open: Monday-Friday 09:00-19:00, 
Saturday 09:00-17:00
For additional questions you can call us at  (316) 844-1383
Conklin Cars Chrysler Dodge Jeep Ram
located in Newton KS, Serving Newton Kansas, Wichita Kansas and McPherson, Kansas Areas
More About: 
Jeep Cherokee
Jeep Compass
Jeep Grand Cherokee
Jeep Renegade
Jeep Wrangler
Jeep Gladiator